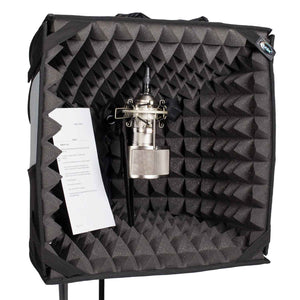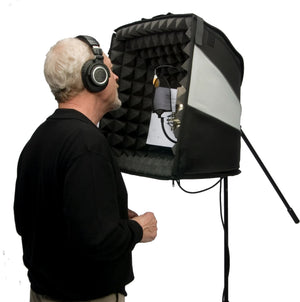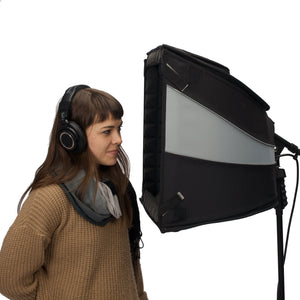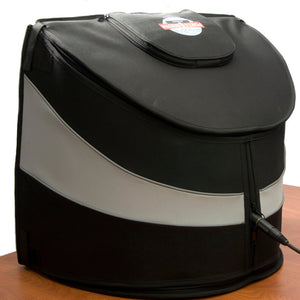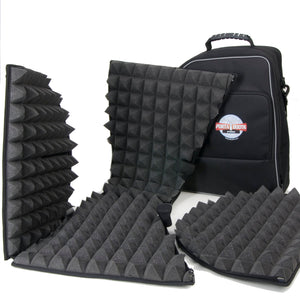 When Harlan Hogan invented The Porta-Booth Pro to record his voiceovers on-the-road he never dreamed it would become the go-to portable audio solution for so many people in so many different industries. Watch Dan Lenard, Co-Host of the popular Voice Over Body Shop tell us more and give his personal video endorsement of the Porta Booth Pro!
The Porta-Booth Pro 6.0 - Now Even Better!
Unique sonic stage "Auditorium" design
Just 7 pounds but rugged 600 denier fabric construction
Heavy-duty travel bag included with exterior storage pocket & padded shoulder strap
World famous Auralex StudioFoam® covers all interior surfaces
Two way zippered bottom and rear slots for shot-gun mics, cables & boom arms
Anti-sway strap & Booth Lifter for boom arm mounting
Pre-slit bottom foam provides a solid base for desktop mic stands
New! Clip Script Light Now, there are two LED flexible lights with two brightness levels. Use batteries or plug into computer or a power plug with included USB Cord.
New!  Redesigned cross-bracing velcro corner straps for an even more rigid assembled booth
Assembles in seconds - Just close two zippers
Built-in Fleece audio hood for extra noisy environments
Specifications
Assembled: 20" High x 21" Wide x 16" Deep
Folded: 21" High x 21" Wide by 7" Deep
3 times larger than our Porta-Booth Plus
Weight: Seven Pounds

The ability to record professional quality audio at home & on the road is a requisite tool for voice work. If money and space are no object building or buying a human sized sound booth is ideal, but impractical and not affordable for many performers. And when you are on-the-road hauling along moving blankets or "portable" vocal booths that weigh 50 to several hundred pounds is equally unacceptable.
But performers can capture great audio even in acoustically untreated spaces with the Porta-Booth Pro. Your microphone hears the sound of a human sized sound booth at a fraction of the size and cost. The Pro accommodates large and long microphones, lengthy scripts and e-reading devices. Lined with Auralex® Studiofoam* the Pro is the best-selling portable recording booth worldwide. It's a professional quality sound studio that assembles in less than a minute.
*Auralex Studiofoam
, the first choice of recording studios worldwide, is the ingredient that makes our Porta-Booths sound so good!
Learn why
.