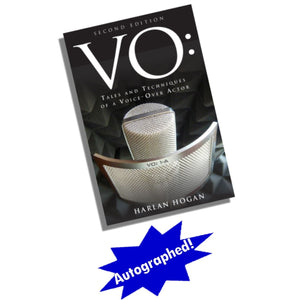 Harlan Hogan's journey from 'terminally' shy kid to voice over legend
New & expanded session stories: 'from the trenches'
How to make professional recordings at home & on-the-road
How to create demos & auditions that win jobs
How to market yourself
All about agents, unions & fees
Reflecting the quantum change that has occurred in the way voice-overs are recorded and cast in recent years, this updated second edition describes the advantages and disadvantages of auditioning and recording from home studios for clients around the world. This indispensable guide also addresses finding work in venues outside film and television, like games, AI, E-learning, Explainer Videos & Audio Books.

Aspiring and established voice-over actors will learn from Harlan's business & performance tips and laugh at his personal account of the crazed clients, practical jokes, and coincidences encountered on his over 40 year journey to success.
Click Here to read Tracy Lindley's informative review.