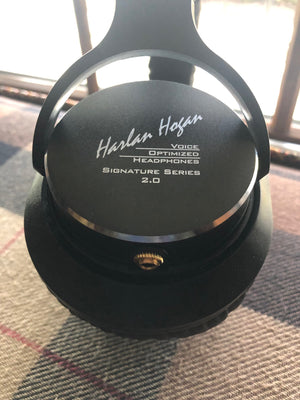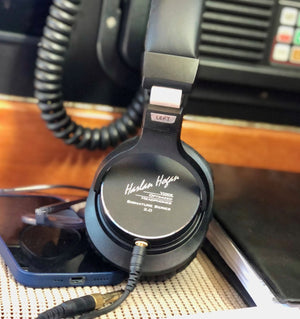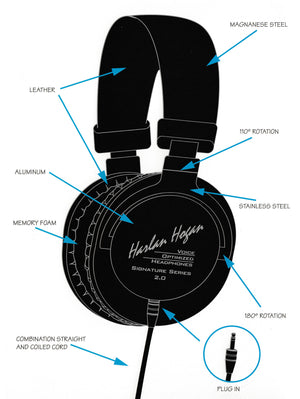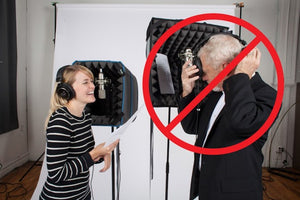 Studio Monitoring Headphones: closed-back, over-the-ear design
More comfortable,

thicker padded leather headband

Leather-covered memory foam ear pads
45mm 40Ω large-aperture drivers w/ efficient neodymium magnets
98 +- 3dB Sensitivity W/10kHz-26kHz frequency response
Incredibly strong & lightweight at only 8.4 oz.
Combination straight /coiled audio cable stretches from 5 to 10 feet
Includes 2 Gold plated mini-plugs and a Studio standard 1/4" screw-on adapter
New mini-jack on the left headphone for easy cord replacement
The headphone made for voiceover
The studio monitoring headphones optimized for voice work. Now even better! The Harlan Hogan Signature Series VOHP Voice Over headphones - 2.0!

While musicians and many consumers choose headphones because of their eardrum rattling bass, open-back, on-the-ear design they are a poor choice for voice work. We need to hear the clear, transparent & honest sound of our voices. Because we often take direction while speaking we need closed-back, completely over-the-ear headphones so no audio leakage or feedback ruins our performance. Plus we need comfortable headphones since we often wear them for hours - performing and often, editing.
VOHP 2.0 provides accurate, transparent sound with enhanced mid-range audio, less bass, AND the creature-comforts we deserve.
The sturdy ear shells are crafted of aluminum - not the more common plastic - to sound sound "leakage." These phones are amazingly comfortable even in long sessions thanks not only to their weight (barely more than half a pound) but also because of the soft supple leather - not vinyl - ear-pads filled with eyeglass-friendly Memory Foam. The thicker padded leather-lined headband, stainless steel telescopic arms, and auto-adjusting non-magnetic manganese steel frame hug - not hurt - your head.
A non-tangling left side connected combination straight to coiled cord stretches from 5 to 10 feet terminating in two gold plated 3.5mm mini plugs. And an included 1/4 inch screw-on adapter lets you connect to studio standard audio gear. Because there is always a chance a headphone cord could be accidentally puled loose our 2.0 design includes a mini-jack on the ear shells making cord replacement take seconds. Because many pros prefer to monitor their performance with only one ear, both earpieces rotate up 180 degrees. An included leatherette felt-lined storage tote completes the package.
 Finally, headphones designed with voice performers in mind - detailed, accurate voice reproduction without a booming bass or shrill high end - coupled with engineering that makes them an absolute joy to wear.
Replacement leather-covered ear pads and combo-cords with two mini plugs are available.
Click Here to find them on our parts page
.