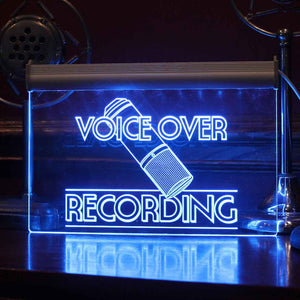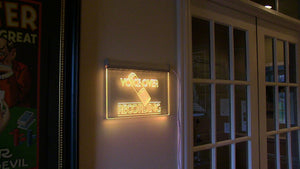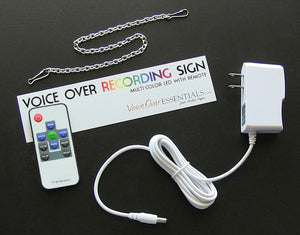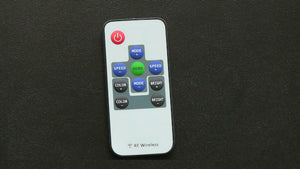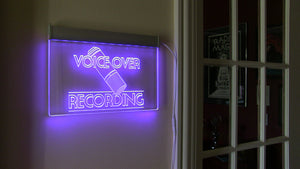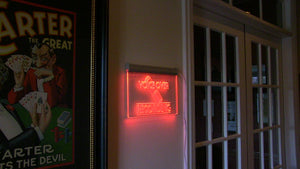 Please Note! Due to US shipping regulations we are unable to include the CR 2025 battery for the remote.
Features
100,000 hour life span LED illumination
20 colors & 19 dynamic modes - speed & brightness adjustable
8.5" x 12" custom-made break resistant thick acrylic & aluminum construction
3-D engraved image looks great in all directions
Wireless, credit-card sized Remote Control with 100 foot long range
Seven foot long cord & wire hanger for easy mounting
Not just a stock "On the Air" or "Recording" sign it's our exclusive VOICE OVER Recording Sign!
This brilliantly-lit LED Twenty color beacon tells everybody: "Hey! I'm recording in here and a few moments of relative quiet would be appreciated!" What's more, the wafer-thin Remote Control lets you choose a multitude of options from color to brightness and flashing ,to fade in and out. You can even set up personal codes: Red means "I'm recording" Blue, "Playing Back" Green - "It's a wrap"!
Plugin the seven-foot-long cord and hang it on a doorknob or wall hook using the included  hanging wire. It's light enough to be mounted right on a wall with easily removable 3-M Command® tape.
For voice workers silence really is golden and Gold is one of the 20 colors to choose from!

NEW! Lost your remote? The dog buried it? Or just need a spare (one for upstairs, one for downstairs)? Whatever the reason you can now order another remote for your multi-color VO: Recording Sign.  CLICK HERE to go to the VO Recording Sign Remote page.

(Every sign comes with one remote)